As a writer, I've seen many people and various instances where this topic is a point for deliberation. It's quite a confusing subject for some people, especially newbie writers, but I'm going to break the jinx in this article.
You've probably seen some companies make a demand specifically for a copywriter and others make a demand only for a content writer. You may be wondering, aren't they the same thing? Aren't they both just writing?
Remember, I started my career as an ordinary writer. I wrote articles, blog posts and did other creative writing services. I would charge $10 per 1000 words, as many freelancers do.
Not until I got hold of the profound copywriting secrets that I built six years of experience with. I've worked with over a thousand clients in my career. I've experienced both forms of writing and can comfortably lead you through this path.
Both copywriting and content writing are essential for every business. They can't be replaced because they have different purposes and different applications. Also, as a freelance writer, both are an excellent way to make money for yourself, and although they can be similar in writing, it isn't always so.
For starters, do you think copywriting is the same as content writing? If you said NO, then you are right. Copywriting is NOT the same as content writing, and I'll explain how.
At the end of this article, you'd understand the difference between both fields of writing and can comfortably decide on which one to pitch your tent in.
So let's dive in. Here are some of the things this article will cover:
Table of Contents
So without much ado, let's dive in……..(Drums roll)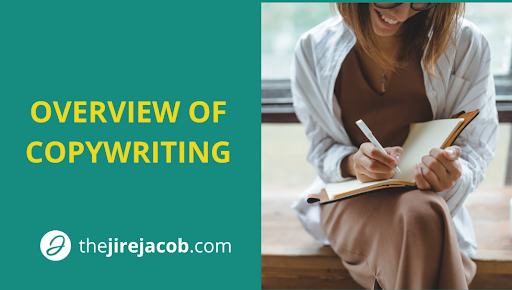 You often hear people say, "copywriting is the best skill to learn," and they aren't far from the truth. They are telling the absolute truth even. You will know why as we proceed along.
Copywriting is the use of persuasive words to compel readers to take action.
Copywriting is geared towards SELLING. Whether you are selling a product or service, your goal in copywriting is to persuade the reader to take action.
This action varies in many ways. It may be to buy your product, subscribe to an email list, download an app, or even click on a link.
Some people think copywriting is just like the writing we learn in school, but our lecturers and teachers would be billionaires by now if that were the case. In the real sense, copywriting is different from all of that.
Copywriting isn't formal writing like some people think. It's a very informal writing style. In copywriting, you write as if you are talking to someone directly. Writing like you are speaking is the right way to grab your reader's attention.
No matter who you are writing for, in copywriting, you only grab attention if you sound conversational and personal.
Copywriting entails knowing what will trigger your reader to take action. You have to research and understand your target audience and what triggers their emotions. You will need a good understanding of the product, an irresistible offer, and a matching call to action.
You don't need a creative brain to write a good copy, Copywriting isn't about creativity. It's more about selling and persuasion. Once you learn the skill, you will see that copywriting is very mechanical. You don't have to stress your mind to be creative. You only have to assemble your copy elements, and you have an excellent copy. But first, you must learn copywriting principles to be good at it.
Copywriting works simultaneously with market research. To know what your audience wants, you have to be in their heads, and you can only do this by proper market research and developing the perfect customer avatar.
Copywriting is everywhere, yes. From social media posts to Facebook advertisements, video adverts, emails, sales letters, brochures, mail flyers, advertising campaigns, catalogs, and magazines, all are written with copywriting principles.
A copywriter creates clear, compelling, and engaging copy that engages the customers and tells them what to do next (call to action).
There are many types of copywriting services, such as:
Technical writing

SEO copywriting

Direct response copywriting

Video script writing

Advertising copywriting
Who Is A Copywriter?
We have established the meaning of copywriting, now who do we call a good copywriter?
A good copywriter has mastered the art of assembling words that trigger a reader to take action.
As we said, copywriting is about making an intended audience take action, and a copywriter is in charge of that process.
A good copywriter should be skilled in the art of storytelling to generate emotional resonance. This will make the reader or target audience get attached to what you say.
Copywriters are essential in the marketing department of any brand of business because they have the words that break or make sales.
The Purpose of Copywriting
The primary purpose of copywriting is to sell or persuade the reader to take action. Unlike content writing, the goal is to inform, entertain and educate. With Copywriting, you sell a product, a service, or a whole brand to the prospect.
There are various skills you will need before calling yourself a good copywriter.
Research skills: Research is one of the most essential elements for copywriting. A good copywriter should be able to use the internet to their advantage.

As a copywriter, you would need to research the product you are offering, your target audience, and the offer you are giving to them before you can assemble a good copy
Listening Skills: To interpret what your clients want into your copy, you need good listening skills as a copywriter.

With listening skills, you should also have good communication skills as it will help you effectively interact and engage with your readers without you even being there.
Vast Vocabulary: To be outstanding as a copywriter, you need a well-developed and extensive vocabulary. It will be pretty dull to use repetitive words instead of exciting words to drive home your point.

You should understand your audience and know how to spice up your writing to entice them and get them to take the required action.

Note that having a vast vocabulary in this sense isn't to have all the big words crammed in your head. It would be best to learn simpler words (and their synonyms), especially those common to a specific target market or industry.
Diversity in Perspective: Your goal as a copywriter is to persuade your potential customers to purchase a product or service you are offering. Sometimes, to write so that your intending clients can relate, you need to write from their perspective.

The ability to put yourself in the shoes of your prospect and write from their mental perspective will go a long way to make you a good copywriter.
Attention to Detail: Identifying errors and fine-tuning your copy is essential to growing in the craft. It would be best to have a polished writing style and an error-free written copy representing your client's brand perfectly.
Language Skills: Of course, you should be well versed in whatever language you are writing in. A solid grammatical foundation is required to craft a good copy in any language.
Significant Elements Of A Good Copy
To achieve good copywriting projects, your copy must have these essential elements in them;
Attention-Grabbing
The first thing your copy should do is grab readers' attention. A good copy should get the reader's attention at first glance. The reader should develop an interest and get connected with your copy instantly.
One way to achieve this is by using killer headlines. A solid and compelling headline will grab your reader's attention and push them to read the entire copy. If you do not grab their attention, you lose them instantly.
The Promise
Now that you've got your reader hooked with your headline, the next thing is for you to tell them what's in it for them if they patronize what you are selling or if they take the required action you want them to.
By default, the main question on the prospect's mind when they read your copy on the internet is, "what can I gain from this." This is where you answer this question and tell them what they will benefit from the product or service you are promoting with the copy.
Your prospects are very much concerned with the valuable experience and outcome of the products more than the specifications and their features. To get them on board with what you are selling, you'll have to make a good promise and convince them to buy your product and service.
You won't only convince them to buy your product, but you should make them trust your brand and believe in what you are telling them.
To get the best out of this, you have to give them a good reason why your brand or the brand you are writing for should be trusted more than other brands.
Many people mistake only listing the benefits and features of their products and services and not talking about the customer's results when they get the product or service.
There is a big difference between the features of your products and the benefits your prospect gets when they buy your product or service.
One way to get the best out of this is by turning the product features into benefits for the prospects. Instead of telling them all that your product has, you should tell them the results they will get and the experience they will have when they use your product or service. This is also known as your brand promise.
Call to action
Unless you have a solid call to action in your copy, none of the things you have written will matter, from your headlines to your significant promise. A definite call to action is essential to seal up the whole process of assembling an excellent copy.
You must have a clear call to action without any form of misunderstanding. This means that the reader must know precisely the step you want them to take without being confused.
Whether to sign up, download an app, visit your store, or purchase online, your call-to-action must be clear and convincing.
Your call to action should be repetitive and redundant. Sometimes, prospects might easily forget that they must take action if there is no constant reminder throughout the copy.
If you are working on long copywriting projects like Emails, scripts, sales pages, or ads, your call to action should be as repetitive as possible.
Your call to action should eliminate any form of confusion from the mind of your prospect. Confusion is an enemy for conversion, and an unclear call to action is a great error for a copywriter.
Overview Of Content Writing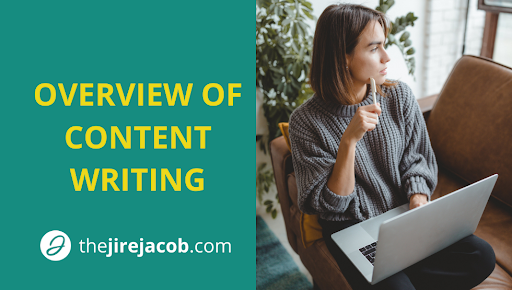 Content writing uses text content to entertain, educate or inform readers on a particular topic or range of topics. Unlike copywriting, the primary purpose of content writing is not to drive sales. It may drive sales as well, but that's a secondary purpose.
Content writing aims to keep your readers engaged, entertained, and informed by producing high-quality content with so much value for them.
Content writing can be persuasive like copywriting too, but that's not its primary goal too. Part of your goal in content writing is to build trust in the mind of readers.
When you constantly push out valuable content for your readers, you establish trust in their hearts for your brand.
Valuable content makes you appear as an authority in your niche, and it positions you as someone who has so much knowledge about a particular subject matter.
Content writing serves the purpose of nurturing possible buyers with valuable content. Your content warms up the reader to become a customer shortly.
For example, a lawyer runs a blog and dishes out useful legal information to the public. They are positioning themselves as an expert in the legal field.
The readers might not need the advice, but they will only hire a legal representative they believe in and trust.
Content writing generates sales indirectly and unpredictably, unlike copywriting.
And just like copywriting, content writing doesn't require as much formal approach. You may also write like you talk when writing content.
Who is a Good Content Writer?
Now that we have established the meaning of content writing and its context let us now examine who a good content writer is.
A content writer is someone with an area of specialization in producing relevant, engaging, informative, and entertaining written content for websites and other digital spaces.
Every website online has a target audience that it is designed for. To speak to that audience directly, you need a good content writer to produce content with relevant keywords aimed at that target audience.
Content marketing has grown over time, and as such, the demand for content writers has increased over the past few years. Some of the forms of content you will likely see online comprise the following;
Blog posts
Web pages
Social media posts
White papers
Press releases
Email Marketing content
Content writers specialize only in the written form of content, and there are many skills a good content writer should possess to be the best in their field.
As a content writer, you must be versatile and experienced in diverse writing. Most people refer to a content writer as the jack of all trades in the writing industry.
Content writing can be daunting for someone new to the field because you will need to master so many practices to succeed as a content writer.
Some of the basic skills you should possess to succeed in content writing are:
1. Research Skills: As a content writer, you will be producing content for different audiences regularly, and you need to research what will appeal to a particular audience when writing a particular project. 
The ability to research effectively goes a long way to boost your skills as a content writer. You will have to go as far as researching the brand you're writing for, the brand tone, their voice, and their unique selling point.
2. Grammar Skills: Since you'll be writing for a website over an internet platform, you will need to have good grammar skills, considering things like spelling, style, grammar errors, punctuation, etc.
3. Quick and Consistent Writing: As a content writer, being quick to produce high-quality content within deadlines is a prerequisite if you want to be a good content writer. You'll be working with different clients who have deadlines for their content, and meeting this deadline is essential.
It is important to specialize in a particular field of content writing and develop a strong knowledge in your chosen field. This will boost your creativity and allow you to generate ideas on the go. This will make for good timing when completing projects.
To truly succeed in content writing, you need a perfect combination of pure writing skills combined with creativity, knowledge, and the ability to work quickly.
Apart from just writing, there are several processes/ roles of a content writer. You can see a breakdown of these roles below;
1. Research
Regardless of the project you are working on as a content writer, the research phase must never be excluded.
Before any form of content can be created to address a need or highlight a topic, there must be proper research, which is the content writer's duty. The content writer will work on projects they are not familiar with, and the only way to create such content is to conduct proper research.
Research takes up almost 50% of content creation time because good research makes up good content writing.
2. SEO expertise
A content writer plays the role of SEO analysis for each content they write. The content produced will be shared on the internet, and so it needs to be found easily. You should have a working knowledge of SEO to best practice content writing.
A good content writer understands the value of a good headline. He knows how to use the right keyword density and correct placement of keywords to maximize the chances of finding the content and increasing its rankings on search engines.
3. Editors and Proofreaders
Part of the job of a content writer is to ensure that the content is correctly edited before sharing on the internet. Sometimes clients might provide rough, poorly written content, and you will need to edit and polish it to suit the brand's standard.
Sometimes, a content writer doubles as a content developer for some brands, not affecting the content writer. When a company has a content developer, the content writer's work is more manageable.
Copywriting Vs. Content Writing: The Big Differences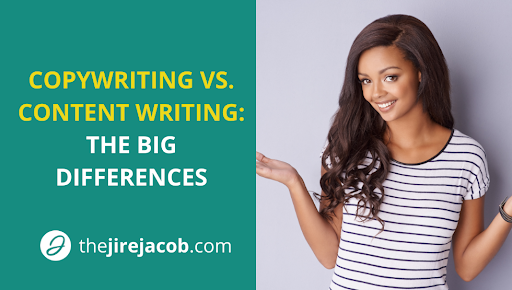 We have seen a brief overview of both sides of writing, copywriting and content writing. It's time to dive into the BIG differences between the two. 
In this section, you'll be clarified on the various ways copywriting differs from content writing.
So what are the differences between them?
1. Purpose
The central distinguishing fact between copywriting and content writing is the purpose for each of them.
Before creating content or copy for a digital marketing campaign, the purpose is the main factor to consider.
The purpose of content writing is to educate, entertain, and inform, while copywriting aims to persuade and sell.
Most Ads you see on the internet involve copywriting because they seek to compel the readers to buy a product or take action.
Brands and businesses use copywriting to make their prospects take action.
However, on the other hand, content writing offers uncommercial value to prospects either by entertaining them, educating them, or giving them quality pieces of information.
2. Length
You can also spot the difference between copywriting and content writing depending on the length of the information.
Because content writing focuses more on entertaining, educating, and informing people, it typically has longer content than copywriting. A copywriter can use two or three sentences to persuade someone to take action.
In comparison, a content writer cannot use two sentences to inform an audience about a particular subject matter.
There are also short pieces of content that are informational and educational. Still, content writing revolves around giving out value for free, and you cannot do that effectively with concise content.
3. Emotions
The emotional response is another significant difference between copywriting and content writing. Copywriting evokes a tremendous emotional reaction, while content writing does not disturb your emotions.
Research conducted by Harvard University professor Gerald Zaltman said that over eight-in-ten consumer purchases happen because of emotional triggers.
A consumer may buy a product because of the fear of missing out on its benefits, which is the sole aim of copywriting.
Copywriting thrives on emotional response, and there are many forms of emotion that you can invoke with copywriting to drive action. A copywriter can evoke emotions such as security, comfort, pride, sense of belonging, instant gratification, and so much more to compel a prospect to take action.
4. Grammar
In content writing, you have to ensure that your grammar is checked by minimizing errors. A simple error can make a reader pause and instantly leave the website.
Some readers abandon content immediately after they see a grammatical error in it. However, this is not the case with copywriting. Good copy does not need grammatical perfection to be effective.
Hence, you might need to persuade your buyer with an incomplete sentence or a grammatically incorrect sentence. Some platforms for advertising have a limit on the number of words you can use when advertising your products, and to stay within that limit, a copywriter has to reinvent words and condense text.
You do this by removing unnecessary punctuation and words. In copywriting, you only need to make sure the copy is coherent and easy to read.
5. SEO
No matter the form of content, any piece of high-quality content should rank high on search engines.
However, it is practically proven that content writing is better for SEO than copywriting. 
Why is this so?
Firstly, content offers great value to readers online and copywriting focuses only on selling to prospects. Content writing provides uncommercial value to the readers.
Again long-form content is better for SEO than short-form content because it attracts more views and always leads to increased backlinks, use of keywords, and further optimization.
6. Selling Vs. Informing
A copywriter sells a brand to a target audience while the content writer has the task of informing, educating, entertaining, and instructing the readers. 
A copy makes the sale; therefore, It is salesmanship on print.
Apart from persuasion and selling, copywriting serves other purposes such as attracting the audience, engaging them, and sustaining content. It also demonstrates an ability to address the problems of readers. This will get them to, in turn, make a purchase.
7. Urgent Response Vs. Engagement
The main goal is to persuade you to take action immediately. For instance, a copy might tell you to sign up for our newsletter immediately, buy a product or download an app. All these are immediate actions that you are required to take as you read the copy.
A copywriter does this by creating a sense of urgency and scarcity from the headline down to the close of the copy.
However, this is not the case for content writers. The purpose of content is to build and engage an audience. Content writing drives on building trust and positioning your brand as a trusted source for reliable information.
8. Short Term Vs. Long Term
The copywriter writes persuasive copy for direct marketing campaigns. Copy comprise typically of short-term projects. You can further measure the success of a copywriter's metrics, such as click-through rates, open rates, and so on, but that is not so in the case of content writing. 
It is not always easy to measure content writing with short-term goals. Good content take time to pay off. Content is often for long-term purposes while copywriting deals with short-term successes.
9. Traffic and Leads
Content writers create content that drives organic traffic, and the copywriter creates a copy that turns that traffic into sales and leads.
How is this possible? 
With content writing, proper SEO tactics drive in the required traffic, but you require the services of a copywriter to write a copy that sells best to the traffic. This is a significant difference between both forms of writing, even though they sometimes overlap.
Types of Writing
A copywriter focuses on delivering marketing material while a content writer produces informative content. But what is the difference between marketing material and informative content?
Traditionally, copywriting was made solely for advertising campaigns, but the internet has changed and advanced copywriting.
Copywriting is nowadays used in the following:
Web page content
SEO content
Ads, online and off
Press releases
White papers
Sales letters
Direct mail letters
Slogans and taglines
Jingle lyrics
Social media
Email campaigns
Brochures
Television or radio commercial scripts
Video scripts
Catalogs
Billboards
Postcards
There are many points where copywriting overlaps with content writing, but you should understand that the purpose behind it is to differentiate whether it is a copy or just content. 
There are also different types of content writing, and they include the following:
Newspaper articles
Whitepapers
Blog posts
Email newsletters
Television
Social media posts
Magazine features
E-books
Books
Film
Radio
Print magazines
Podcasts
As you can see, there are many points where copywriting overlaps with content writing. It all depends on the need of the brand. 
Similarities Between Copywriting And Content Writing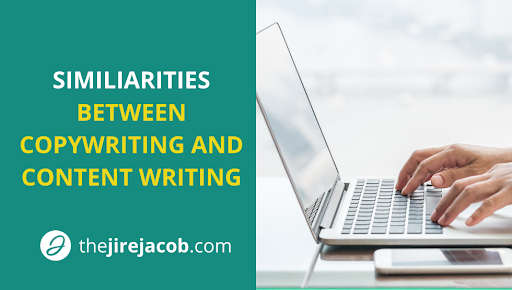 Even though copywriting focuses on sales and content writing is focused on information and education, there are many things that both forms of writing have in common.
1. Conversational Style
Both forms of writing have a conversational style. In copywriting, you write right as you talk to engage your prospects and trigger their emotions. The same applies to content writing. You write as you speak to establish communication and trust between you and the reader.
2. Target Audience
Both copywriting and content writing have a target audience they address. A copy speaks the language of its audience the same way content does.
3. Goal-Oriented
Both forms of content are written with a goal in mind. The purpose of a copy could be to sell a brand to its prospects by persuading them to take action. On the other hand, content is basically to inform, educate or entertain an audience by providing valuable information to them for free.
4. Value Delivery
Both copywriting and content writing deliver value to prospects. Copywriting provides value in the form of a product that solves a need. Content writing offers value in the form of educational or informative content.
Content can generate sales just like copy, which can build a good relationship between a brand and its prospects. Take, for example, you could have a blog article with a call to action at the end of the post and also write a landing page so that the customers feel comfortable with the brand.
However, these are just side effects of good content and good copy but not the primary goal.
Every sentence in the copy takes the reader through getting them to take action. 
However, a good campaign needs both of them to be outstanding. Copywriting and content writing work well together and complement each other, which is why they are never far from each other.
How To Identify Great Copywriting
Starting from the headline, a great copy will attract your attention immediately. A good copy is conversational and captivating, and each sentence you read will make you want to read the following sentence. It is direct without the fluff and unnecessary sentences.
Getting the reader's attention is the most critical point in copywriting, and the greatest copywriters are experts in this. Good copywriting captures the reader's pain points and speaks in the reader's language. Great copy shows how the product will solve their problems and achieve their desired satisfaction.
How To Identify Excellent Content Writing
You cannot resist excellent content writing because of the value it gives and how interesting it can be. Good content is always backed up with valuable information from reliable sources.
Excellent content creates an outstanding consumer experience by establishing trust between a prospect and a brand. Good content is engaging and conversational. It carries all the information you will need for a subject matter.
Project Difference Between Copywriting And Content Writing
Another significant difference between copywriting and content writing can be seen in projects where both forms of writing are applied. You will see copywriting basically in landing pages, Facebook ads, sales letters, and emails for copywriting. Video clips, Facebook posts, and blog articles with a call to action
No matter the form of copywriting, they all work with the same principle of understanding the audience and writing their language. You have to create an irresistible offer and instill persuasion into a copy to make the reader want to act.
On the other hand, content writing is seen in LinkedIn articles, white papers, blog posts, videos clips, Instagram posts, Facebook posts, and any form of content you want to bond with the reader.
The more amenities you can specialize in as a content writer, and the more of a specialist you are in one, the more services you can offer and the more valuable you are as a content writer.
Content writing also requires a lot of research to gather helpful and valuable information.
Earnings In Content Writing
Another way to know the difference between both writing forms is the earning capacity of both forms of writing.
Firstly, content writers can be paid per project. You can also find a company where you have established a long-term partnership and have a consistent flow of income by writing all their website or social media content.
Working long-term will allow you to fully understand the brand's product, services, audience and get in line with their brand tone and voice. These lessen research time and ease your adaptation to the brand.
However, if you have just one retainer client, you must learn more about their products and the brand. This will help you create content easily because you will be appointed with their processes.
However, to make money with content writing, you must ensure you work with only brands that value your work. Many businesses outsource their content writing tasks as they climb the ladder of growth, and you can position yourself to be in charge of producing such content for them.
Earnings In Copywriting
As a copywriter, you can make enormous money if you are skilled enough to write copy that drives sales and produce results for your client. Copywriting is simply persuasion in print, and if you build your skills to be persuasive enough, you can be paid very well.
As a copywriter, you can write a landing page copy as a one-time gig or other copywriting services like sales emails and ad copies for a one-time project. You can also get a retainer to write copy for a client consistently.
Established copywriters make up to $2000 for writing a single landing page for a company. The thing is, once your copy is excellent and gets the company to make ten times more the amount of revenue they had before hiring you, they will not find it difficult to pay you such an amount of money.
Copywriting is a scalable skill. The more you get better at it, the more you will earn. This is the significant difference between copywriting and content writing because great copywriters are paid better than great content writers simply because content writing is not as scalable as copywriting.
Tips To Consider Before Choosing Copywriting Or Content Writing
Are you confused on whether to go for content writing or copywriting? 
Or perhaps you are a content writer thinking of switching to copywriting because of its scalability and lucrativeness? 
Do you think you can do both forms of writing? 
Are you unsure of which form of writing is best for you? 
This section will cover what you should note before choosing either content writing or copywriting as a career.
Copywriting and content writing are incredibly important in a marketing campaign and every online business venture. A written content creates brand loyalty and engagement while copy drives conversion and sales. It is easier for businesses to sell their goods and services when they have more brand loyalty, so copywriting and content writing complement each other.
Some copywriters were creative blog writers or magazine writers before switching to copywriting. But before we proceed in this section, I would love to know what you think;
Are you more of a copywriter or a content writer? 
I would love to read your response in the comment section.
So here are five factors you should consider before choosing between copywriting and content writing:
1. Freedom To Write
In copywriting and content writing, the essential element of getting attention is storytelling. A good copywriter and a good content writer must master this art to communicate with the audience properly.
However, copywriting has its goals that are different from content writing, and this gives both forms of writing different amounts of freedom when it comes to storytelling.
As we have established in this article, a content writer creates engagement and builds brand loyalty and authority by giving informative writing pieces.
In contrast, a copywriter has the sole aim of selling and converting prospects into customers. 
At some point in being a content writer, you get the opportunity to inject your expertise into your content even if you are writing for a different brand, but this is not so in copywriting. 
Copywriting is strategic, intentional, and directional, and it needs to capture the voice and message of the brand you are writing for coupled with a clear call to action.
In copywriting, you get a limited amount of freedom to become creative and express your copy with a few words for your prospect to take any action.
Hence, content writing gives you more room to express your creativity.
2. Your Personality
Another important consideration in choosing between copywriting and content writing is your personality. What do you enjoy most as a writer, and what is best for you? If you enjoy educating and captivating readers and sparking conversations as a content writer, then content writing is a good fit for your personality.
On the other hand, if you are more motivated to get a reader to take any action, copywriting is a good fit for your character. A copywriter is more strategically focused and dedicated to bringing a conversion, while the content writer will enjoy educating people and giving out valuable information without restriction.
Nevertheless, you can enjoy both, and if you do, it is perfectly okay to practice content writing and copywriting. I know copywriters who once enjoyed conducting research and writing lengthy articles as content writers before switching over to copywriting.
3. Your Mindset
This is a controversial point to address, but I will try to be as straightforward as possible. Your mindset around selling is one of the core differences between a content writer and a copywriter.
A good copywriter has a positive belief system around sales, but sales might not be that important for a content writer.
If you're someone that sees sales and marketing strategies as a greedy scheme to manipulate people and get rid of their money, then copywriting will seem complicated for you.
On the other hand, if you view sales as a mutually beneficial practice and enjoy transactions and exchange of goods and services, you will do well as a copywriter.
Adopting a healthy mindset about marketing and selling is one way to thrive in copywriting. You cannot get people to become emotionally attached to your products or engage with your copy if you do not have a positive mindset about sales and marketing.
However, I'm not trying to say that content writers do not like the idea of selling. All I'm saying is for you to thrive as a copywriter, you will need a positive attitude toward selling.
If you have less such an attitude, then content writing is also a good fit. Whether you are a content writer or a copywriter, you will be selling a brand to a prospect just that in copywriting, the sales process is direct to the point and strategic.
3. Experience
The process of writing good copy and writing engaging content is not easy. Both forms of writing need in-depth research and time to gain professional experience.
Your experience as a content writer will differ from that of a copywriter.
A content writer produces social media posts, long-form blog posts, content video scripts, educational emails, blog posts, etc. One might also be tasked with coming up with different content ideas and articles to increase the comments, conversations, likes, and shares on each of them.
You can also edit, proofread, and define each of those articles and measure how it impacts engagement.
As a copywriter, you will produce marketing scripts, landing pages, sales emails, advertisement copy, and other marketing material. If you are hired to write copy for a marketing campaign or launch, you will need to fit your copy to guide a user throughout the entire sales funnel strategically.
You're expected to optimize your routing access to boost the conversion rates in a marketing campaign.
Judging by these analogies, we can attest that the expressions of a content writer and copywriter are not the same. So before you choose to either go for copywriting or content writing, you should do good research to know which of the above feels more like fun to you.
4. Income
This is a point that defines the choices of many people when it comes to content writing and copywriting. 
Are you wondering how much you can make as a copywriter or content writer?
It would help if you considered it before choosing to settle for any of both forms of writing. 
Content writers can make a great living with their services, but copywriters get paid more. This is because a copywriter plays a direct role in marketing a brand or product by facilitating sales and increasing returns on investment.
On the other hand, a content writer charges a flat rate based on monthly deliverables or word counts, or even per article. 
Content writing gigs are always based on hours spent on each deliverable, and it's just like you are exchanging your time for money.
Some copywriters make more money for the same amount of time.
Copywriting is very scalable. There is room for growth in income because companies will pay more when your copy drives more value and impacts sales.
Developing a brand voice and creating conversions take a lot of time, so when a company discovers a copywriter that they love to work with, they are bound to keep them.
Content writing Vs Copywriting: Frequently Asked Questions
We have gone through how copywriting differs from content writing and the similarities between both forms of writing.
I know you must have other questions on your mind, and I will address a few of them in this section right away.
Can I double as a copywriter and as a content writer?
The simple answer is YES! Both contents writing and copywriting are highly lucrative skills, and if you can do both of them, you are in a position to get jobs from either of them.
Copywriting does not mean that content writing is unnecessary and vice versa. Both of them complement each other in a marketing campaign. So knowing content writing with a good knowledge of copywriting makes you an outstanding writer.
How do I start copywriting?
Like every other skill, copywriting needs to be learned, practiced, and groomed before calling yourself a professional copywriter.
There are many ways to start a copywriting career, one of which is to register for a professional copywriting course. You will be taught the rudiments of copywriting and how to use persuasive text and words to drive sales and conversions for a brand.
Which is better: content writing or copywriting?
I wouldn't say copywriting is better than content writing or vice versa, but I will need you to check the purpose you need for either of them.
Copywriting has its purpose, which is to drive sales and increase conversion. In contrast, content writing aims to educate, inform, and entertain your audience and establish brand authority and loyalty.
So if your purpose is to sell a particular good or service, copywriting is your preferred option. On the other hand, if you're looking to engage your audience with good content and keep them coming back for more, you should invest in content writing.
Which is more likely to get me more money, content writing or copywriting?
Like I said in this article, content writing and copywriting about lucrative skills are high in demand presently. However, it is a proven fact that copywriters earn more than content writers because copywriters are directly involved in the sales and marketing of a product or a business.
Content writers are engaged in brand growth and not necessarily tied to the direct selling of products. As a copywriter, your income increases as you gain more experience and write more copy to drive more sales and conversions for clients.
You can make a comfortable living writing content for a brand, but which income comes from copywriting.
Final Words
At this juncture, I will draw the curtain for this article, believing that I have done justice to this topic. By now, you should know the difference between copywriting and content writing and how they both complement a marketing campaign.
We have seen that copywriting is not directly opposite to content writing, and both can exist simultaneously and help a brand reach its desired growth. While the content writer builds brand loyalty and positions it as an authority in the industry, the copywriter uses direct copy to sell the brand's products to its prospects.
Both are essential for brand growth.
I also believe that you have gained some clarity, and you're now in a better position to choose either content writing or copywriting as your writing career. Do not forget to share this article with your friends interested in starting a copywriting career or becoming a freelance writer in 2022.
So between copywriting and content writing which are you going for?
I would love to read your response in the comments section below.