Are you finding it hard to select the right writing niche in 2021? Do you feel confused whenever your friends tell you to niche down your writing services?
If you're in this category, then you've come to the end of your struggle because this is the holy grail that will expose all you need to know about profitable writing niches.
It's pretty easy for freelance writers, especially newbies, to be confused when choosing a profitable writing niche.
Finding these profitable freelance niches becomes a problem for writers, not because the niches are difficult to see, but because they are so much that you don't know which one to pick.
When I started my freelance writing journey, I had this problem too. I wrote in diversity until I found my passion in copywriting and digital marketing. So I said to myself, there's no need to run around in circles in other niches. I pitched my tent in my chosen niche, and now we're here.
If you're in the same confused state as when I first started, this article is specifically directed to you. I will show you the profitable writing niches you can start writing for in 2021. Ready? Let's hit the road.
What Do I Mean By "Niche"?
When we hear niching, the first thing that comes to my mind for most of us is specializing in a specific topic or industry.
Even though this is quite true, the core of the matter can be broader. On the other hand, it can also be specific and laser-focused.
You can also refer to a niche to be a Content Type. In this case, I refer to different types of content such as white papers, blog posts, social media posts, video scripts, and others.
The most profitable writing niches also depend on the content types and specific topics. Generally speaking, and in all my years of experience as a writer, I've concluded that a writing niche can be that topic, industry, a form of writing, or content type which is unique to you.
"Niche down to Get Rich"
Your success as a Freelancer is mainly tied to niching down your services. Why are the riches in the niches?
Here's an explanation to help you understand better;
Difference Between A Niche And A Service
I have embedded a lot of information in this article on picking out a profitable writing niche. However, there is this misconception regarding a writing niche and writing service.
This phenomenon confuses some people, especially new freelance writers in the Industry. So to set the record straight, here are my explanations on the difference between a Niche and a Service;
A niche is an industry you are writing on, be it finance, health, technology, music, etc. 
Service is the form of writing you do in your niche. An example of this is white papers, blog posts, articles, Social media posts, etc.
To make the most out of your freelance writing business, I advise you to choose a niche and a service.
As you journey on in your freelance writing career, you can expand your writing niche and service. For example, you may start as a blog post writer for cryptocurrency firms and grow into writing blog posts for different niches like finance and health or expand to other writing services in your niche.
You will find it easier to expand to more services in your niche because you can sell these new services to your current clients rather than looking for new clients.
Once you are good at what you do, your clients can serve as referrals for you and help you grow your business.
Firstly, Why Do People Hire Freelance Writers?
As a freelance writer, you can help various businesses and clients market their products and services and different forms of writing.
The content you produce for these clients will help increase their website viewership and show their expertise in a particular industry or products and services.
As their website viewership increase, readers and subscribers turn into potential clients.

The content you produce also exposes their services or products to many people.
Even though some start-up businesses write their content by themselves, they see the need to hire a freelance writer as they climb up the ladder in business, and that's where you come in.
Now you know why a business needs a freelance writer. Do you think you'll be hired if you do not know so much regarding a particular industry or topic?
Niching down makes you a "Boss" in your niche and attracts the clients and customers who need your services specifically in that niche. Once you have established your authority in a particular niche, it will be easier for you to land clients because you will be seen as an expert figure in that niche.
As you focus your services on the particular niche, you understand the product and services rendered in that niche, how the readers react to content, and the industry. There is always a difference when you are writing about something you have substantial knowledge about.
Here Are Some of The Ways Niching Down Your Writing Services Will Benefit You:
Higher Rates: As a specialist in a particular topic, content type or industry, you can raise your rate significantly higher than other writers because you are a justified specialist in the subject matter. The value you will bring to the table will be worth much more than what an ordinary freelance writer will bring.
Write Faster: Since you have an idea about the topic or industry you are writing about, your writing process becomes easier and faster. Your research process equally becomes more accessible. Luckily for you as a freelance writer, the faster you write, the more income it is for you.
Get Clients Quickly: When you niche down on your writing services, you attract the right clients easier and faster. Many high-paying clients are looking for specialized writers or "niche-down writers," and when you become one they will come to you first.
Increases Experience: You gain maximum experience in your industry once you've niched down 

and it will be easy for you to sell your products and services.
Now that you have seen why you should niche down your writing services, let's proceed to list the top 10 profitable writing niches in 2021.
10 Profitable Writing Niches
Hold on, before we begin to list out these niches, you must know that the profitability of a particular niche depends on the supply and demand of services in that niche. Unarguably, some niches are doing better than others, and certain factors might affect the profitability of a particular niche.
For example, the travel niche experienced a huge setback during the Covid-19 pandemic, but that doesn't mean it is not profitable. However, the niches we will list in this article have long-term profitability, and they are;
1. Long-Form Blog Posts Writing Niche
Long-form blog posts are written content that range from 2,000 to 3,000 words long (depending on your agreement with the client).
These are well-researched and in-depth articles as regards a particular topic or keyword. They should be appropriately researched and provide all answers to the readers.
They are not limited to the standard 500-word blog post you see on different blogs. You may have to include various elements such as images, quotes, statistics, and case studies to convey a valuable piece of information to the reader.
Even though the content is long, it should not be written in a dull form. The content should be written so that it will engage with the reader. It should be entertaining and conversational. 
The demand for writers in this niche is not as high as others. However, it is pretty expensive for business owners and marketers to pay writers for this form of content. 
Some business owners will revert to publishing short-form content even though they know that long-form content performs better.
This website hosts much long-form content, and as you can see, all content is engaging and conversational.
Our blog post is a good example of long-form content.
For you as a freelancer that wants to specialize in this niche, you can find a lucrative client that will pay you handsomely to produce long-form content.
To start writing this form of content, you need to find topics that interest you or topics you enjoy writing about. You can try out those topics you are not interested in exploring. But be warned, long-form content can be draining at some point. 
When writing long-form content, ensure you include all relevant information in the article, so the reader does not need to visit another website for more information.
2. Finance Writing Niche
Finance is one of the top writing niches in the world today. Money is everywhere, and people are always looking for ways to make and save money.
As the world continues, money and other Finance investments will keep going on. The Finance niche is here to stay forever because no one can do without money.
Finance is quite a broad topic, and there are so many sub-niches. The demand for Finance writers will always increase due to how vital the industry is.
Moreso, if you have a background in banking, accountancy, and other finance-related topics, then it will be pretty easy for you to succeed in this niche. 
Why is the finance niche so popular? 
Simply put, people are always looking for help and advice on making more money and managing their money efficiently.
Some of the topics you can find under the Finance niche include:
Investing and planning for retirement
Personal Finance
Budgeting
Online businesses
How to start a side Hustle
Finance is an extensive niche, as I stated earlier. There are so many sub-niches in Finance hence that you can specialize in different niches and services. Some of these sub-niches include: 
Investment
Cryptocurrency
Mortgages and loans
Money-saving
Investment Tutorials
If you have even the slightest interest in money, you can do well in the Finance niche. By estimation, the Finance industry hits up to $26.5 trillion every year. People spend a lot of money on financial services such as car maintenance, loans, and others.
The companies that provide these services spend considerable funds to advertise their services and products, which is why the industry is consistently profitable and stable.
3. Technology Writing Niche
The recent pandemic that hit the world in 2020 boosted the technological market by over 163 billion dollars. Without technology, most businesses in operation today wouldn't be in existence.
Technology has been instrumental in ensuring that communication, marketing, production, and sales are moving on. The demand for technology writers has also increased over time.
Technology is an extensive niche and includes a lot of sub-niches such as
Computers
Smartphones
Gadget news and reviews
Cryptocurrency
Technological accessories
The Technological niche is perfect for people with previous relevant experience. If you have experience in programming and machine learning, you can consider writing in this niche.
When you combine this niche with a good form of writing, such as long posts or white papers, you have built yourself a profitable writing business.
Starting in the Tech niche is relatively easy as there are different channels to learn about any technological concepts or related topics on the go.
You can start with the broad Tech topics which do not need too much technical knowledge and advance from there.
4. Ebook Writing Niche
Ebooks are usually longer than long-form blog posts and ultimate guides. However, the length of an eBook depends on the purpose of his creation and the creator's choice.
Much long-form content can be repurposed into an eBook and vice versa. Ebooks are perfect to use as a lead magnet because it helps business owners and marketers give out value for free in return for customers' contact info. They collect the email addresses of their readers to retarget them later on by sending sales emails and newsletters to them.
This alone makes Ebook writing a very lucrative niche. It takes a lot of time to create a good Ebook, which is why many businesses source out for freelance writers.
These businesses will ask the freelance writers to sign a non-disclosure agreement which will take away the writer's right to claim the eBook after it is published. 
Once you land and execute an ebook writing contract, it becomes easier for you to offer other writing services to that client.
You can now sell other services such as social media posts and blog articles from the ideas in the ebook. You can make a lot of money writing eBooks on different topics.
5. Digital Marketing Niche
This niche is one of the highest-paying writing niches in 2021. Everybody seems to know one or two things about digital marketing these days. There are so many businesses utilizing online mediums to grow their audience.
These businesses and brands depend on well-written content to attract more customers to their businesses; therefore, the demand for digital marketing writers is always on the rise.
To be successful in this niche, you need experience in one or two digital marketing skills. Even though the demand for writers of this niche is stable, clients will always go for proven results.
Nobody wants to spend money on a writer who will not use their writing skills to bring in prospects for his business, and this is why you should gain experience first.
You can learn more about SEO, social media marketing, content marketing, and copywriting. When you get a good amount of experience in any of those topics, you can build your writing career around it.                     
Some of the things you can write under the digital marketing niche include:
Tutorials and buying guides
Digital marketing materials
Video scripts
Blog posts
Landing pages and sales brochures
Ebooks
Newsletters
6. Video Script Writing Niche
Videos are the most preferred content types for marketing and advertisement in 2021. Many brands and businesses now utilize videos to reach more customers.
Videos have become essential, especially for course creators who use videos to teach their students. YouTube on its own has recorded an increase in the number of video characters since the pandemic.
That being said, video scripting has opened up a new market for freelance writers who will be interested in scriptwriting. Writing video scripts is more like writing a conversation. You have to be concise in your message when writing a video script.
These videos could be a few minutes long, some could be more, and that's the exact amount of time you need to structure your video script to pass the message it should. There are so many types of video script writing you can indulge in, such as YouTube videos, promotional videos, online courses, sales videos, etc.
I'll advise you to choose one category and specialize in offering expert services to clients in that category. You can be paid up to $1 per word or $200 to $500 per project in payment terms.
7. Ghostwriting
Ghostwriting simply means that someone else is taking credit for the work you are doing. As a freelance ghostwriter, your clients own the full rights to the content you produce for them. There are so many things you can ghostwrite, starting from blogs to ebooks and articles, etc.
As a ghostwriter, you'll be working with many clients who want content published on their blogs but don't have enough time to do it. This is where you come in to offer your services to them.
If you are writing without getting the accolades for your job, you can step up your price a bit higher if you have no problem with being anonymous as a writer and ghostwriting and working for you.
However, since you are writing as someone else, you will want to capture the tone of voice of your client and the brand you are working for.
8. Academic Content
Academic content niche comes in various forms such as research studies, Essays, and other essential writing services, especially for PhD students and higher education students.
Academic writing is very complex, and it draws a high income from its complexity. The complexity of this niche makes it more profitable than some niches listed in this article.
If you have a degree or some academic knowledge in any topic industry, writing academic content on for topics related to that industry won't be an arduous task for you. For example, as a pharmacy graduate, I can take on academic research based on topics related to pharmacy if I want to render services in this niche.
This goes for other fields of learning, too, such as engineering, health, science, and so on. Getting work in this niche is relatively easy, especially if you have a degree.
When your clients see your degree in that niche, they are more likely to trust you with their project.
9. Health
People are always looking for better ways to take care of themselves, be healthy, and live longer. This is why the health niche will remain one of the most profitable writing niches for freelance writers.
Health is such a broad niche and hence has other sub niches under it. There are so many subtopics that you can specialize in, such as;
Weight loss
Senior health care
Addiction
Keto diets
Yoga and meditation
Essential oils
Cannabis and CBD oils
Anxiety management's
Vegan lifestyle
You can explore so much under the health and fitness niche based on your interest and the ones you have passion for.
10. Sales Pages
The dream of every business owner is to convert viewers and online audiences into buying clients and customers.
One of the ways to do this is by crafting engaging and compelling sales page. Sales page writers earn the most money because they are not just writing for the fun of it, they are writing for a result. 
Imagine writing a 600 word sales page that brings in an income of over $100,000 for your clients. 
How much would you charge for that? 
Some sales page writers charge from $500 to $2000 per sales page.
This means you can make a full-time living by writing sales page for clients. However, you cannot just jump into writing a sales page without understanding advanced copywriting techniques.
You are going to be driving readers to purchase a product or service with the sales page. Every industry or business needs sales page writing because they are always selling something online.
To begin as a sales page writer, you should get a good grasp of copywriting first. You can do this by registering for our Crush-it copywriting course, where you will be taught everything you need to know to be an established copywriter.
Other lucrative Writing Niches
We have seen ten writing niches that allow you to earn money as a freelancer. However, below are more lucrative writing niches to strengthen your writing revenue as a freelancer.
Family and Parenting Niche
Many parents and individuals are searching for how they could improve in so many life aspects, either as a parent or as a better sibling.
Parenting plays a vital role in our present-day world as it contributes to the fight against many adversities.
This niche includes writing about natural parenting, single parenting, and raising wonderful families.
Education Niche
Here is another lucrative writing niche that would pay you very handsomely as a freelancer. This niche is so far one of the best-paying niches which you could go into.
To write on this niche, you need full knowledge of Educational sectors and how they affect society.
There are quite a few topics to be written about in this niche, and you can choose to write about college planning, tuition waivers, scholarships, home education, etc.
Relationships and Dating Niche
Now, this is a niche everyone would be interested in. Writing about dating and relationships is a very profitable niche that would make you a high earner as a freelancer.
Everyone wants to find true love, and everyone needs relationship ideas and specific advice. Some love to hear ideas of perfect dates, make marriages work, and even life after divorce. If this niche interests you, you might also be on your way to financial stability as a freelancer.
Entertainment Niche
Writing about entertainment is another way to get highly paid as a freelancer. Often, celebrities are awarded, and there is always a rising demand for writers to cover the events.
You could also find joy in writing movie reviews, news articles, and summarizations. People love to know about different celebrity scandals, and they search for them online, so why not be the first place they go?
Technical Writing Niche
As a technical writer, you can save a business from bad reviews and equally save your boss from frustration.
In this niche, you are expected to illustrate the interfaces of specific systems and equipment. This niche is very profitable as many industries and companies are in particular need of technical writers.
Scientific Research Writing Niche
This niche comprises many topics or sub-niches to be focused on. Scientific research writing has to be neat, easy to comprehend, concise, and as well as detailed.
This niche is basically for recording data or landing a blog writing gig from a company like NatGeo wild or any pharmaceutical company.
Fashion and Beauty Niche
If you have a thing for beauty and fashion, you can start a fashion blog and equally write about fast-rising beauty industries and high-performance sites.
This niche is one of the best for freelancers and a plus if you have a passion for fashion and beauty.
Food and Dining Niche
This is another great niche for a freelancer. This niche doesn't necessarily need Google to drive traffic as it is already a high-volume industry.
Food content does exceptionally well on social media pages and websites.
The content in this niche could be restaurant analysis, recipes, food reviews, and news about what's good for eating. This niche is an excellent way to get money as a freelancer.
Home Decor
This is another high-paying niche for any freelancer to be in. Home Decor offers a variety of areas to specialize in, and you get to show different photos and give guides on how to make things done —in-home designs. This niche also attracts the potential audience to it irrespective of your budget.
Sportswriting
Writing about sports could be fun to write. You can land a writing gig where you get to interview athletes, both fast-rising and great ones too.
You can also sell sports merchandise and affiliate marketing bringing revenue to you as a freelance writer. This niche also draws traffic to it like lots of people are interested in sports.
Freelance Writing Niches For Beginners
I have listed so many writing niches in this article, but not all of them are beginner-friendly. For you to excel in some of the niches we have listed in this article, you will need some level of experience.
However, there are some other niches you don't need much of experience to start with. These are beginner-friendly niches and they are;
1. Entertainment
You don't need a lot of experience to start in the entertainment niche. You can pick a section of the entertainment industry and focus your services there. You can choose to write on entertainment news, movies, music, comedy, and so many others.
You can also start by checking what other top entertainment writers are doing on their blogs and then replicate what you learn from them.
2. Technology
Like I said earlier in this article, technology is a comprehensive niche, and many sub-niches are under it. You can quickly start in this niche by choosing one of these sub-niches and focusing your energy on it.
You can choose to start with computers. Everybody is acquainted with how a computer works these days, and it will be easy for you to get content to write in this niche. You can also choose to focus on other aspects of technology.
However, some aspects of technology need some experience before you can write about them. Areas such as programming and web development need someone who understands the terms and expertise and has little experience in the field.
3. Movies
Most people watch movies, if not everyone. You do not need so much experience to thrive in this niche. If you can give good reviews and analyze movies properly, then you are good to go.
4. Games
If you love playing games or have an interest in games, you can perfectly render services in this match. Writing under the game niche includes writing game reviews, workflows, game comparisons, walkthroughs for various games, and other game-related writing services.
You might not need the experience to start in this. All you need is a good knowledge of how games work, and you already have that if you are a gamer.
5. Books
If you are a bookworm, then you can thrive in this niche without much experience. Succeeding in this niche requires writing books, stories, book reviews, and other related services.
You might not need professional experience to do this ideally, but you do need to have a good command of the English language.
So as a newbie writer, you could go with this niche since it requires less experience to start. But if you have some experience in a particular niche, you should choose that niche and improve your skills.
Selecting Your Freelancing Niche
Choosing your freelancing niche is the first step to becoming a pro in freelance writing. For you to have a niche, you must have a place of interest.
The interest here can mean what you love to do or write about. For example, most people are interested in fashion, design, or even healthy living that can make up their niche.
Having a freelancing niche is necessary and an excellent way to make money and get clients often while doing what you love.
However, there are quite some things to put in place before you ascertain your niche.
The following steps are necessary to understand or identify your niche:
1. Identify Your Area Of Expertise
To start, you have to identify what you know how to do, what you have excellent knowledge of, and what you can quickly get done without attaching much effort.
For example, you might find yourself in a catering job with a lot of knowledge. Your freelancing niche could be everything about food.
You can choose to write about nutrition, recipes, or even reviews on restaurants and their meals.
If you own multiple content about freelancing, you could be a full-time freelancer in the area of writing, which could either be content writing, blog writing, etc.
Rest assured, in what area you find yourself in, there is a market opportunity for you. With appropriate love and joy for what you do, you are bound to get what you need from freelancing.
2. Identify market gaps or opportunities
Now you know what you are writing about, you need to monetize it. You can start by recognizing the freelance market changes where your niche would be greatly appreciated.
To do this, you need to research to find publications that would pay you for writing in a niche. 

To identify market gaps, you need to ask yourself these questions: Are there ways to get paid for my writings?
Are there industries paying for my services? Is my niche paying me?
This and many more are entitled to your findings through the research you would have to perform.
If ever there is no market available for your niche, there is time to take a step back and seek to broaden the horizon of your niche to find a platform for your services.
3. Do Your Cross Checks
This is where you do your cross-checks and evaluate yourself as a freelance writer. If you want to get paid writing, then you should know how professional your services are.
You must be ready to grow your skills within and outside your niche. But, as it goes, there are times that your niche would not be available in the market, or there's not enough demand for your services in the market. In this case, most freelancers tend to open up their niches to a broader versions to make their services available in the market.
Take the food writer, for instance, if they love writing about locally made meals and find out along the way that there is no demand for local meal writers, there is a big chance of finding platforms that would pay them if they widen your niche to both internationally made and locally made meals.
Hence, as a freelancer, you don't need to completely leave your niche even if it doesn't pay well
4. Be On The Lookout for Clients
Now that you have identified the niche you want to focus on, and you have to find your clients. The quality of your work and samples will determine the quality of clients you'll get.
You have make sure you are familiar with the niche where you are applying for and have the capacity to deliver projects in that niche.
But how do you get clients? 
I have dedicated a whole section to show you how you can get freelance writing clients in any niche. so you should consider reading further if you are interested.
5. Grow your Knowledge
As a freelancer, your number one job is to get updated on your niche. This singular fact differentiates beginners from pros. The more experienced you are, the more clients would value you and keep long-ranged contracts with you.
For this reason, it's imperative to expand your niche horizons and get fully up-to-date with any of the latest information that would make you better.
You are to note that no matter how small your niche is, there are bound to be competitors from far and wide. As a freelancer, you are expected to get updated with the latest development in your specialization area.
You can do this by reading the latest publications, noting past and present mistakes, taking online courses, and making yourself outstanding.
With all this complete, you are ready to do excellent research and grow yourself as a freelancer.
How To Build A Career With Freelance Writing
If you aim to build a career in freelance writing, regardless of whichever niche you are in, there are certain things you must do to achieve it. Building a career out of freelance writing is not a day job. So here are the things you should consider first;
1. Pick a Niche and gain knowledge 
The first step to building your career in freelance writing is to pick a niche. You can pick a niche based on your level of experience in a particular industry, your passion, or your educational background.
But whatever reason that fuels your decision on the niche you pick, you must learn and develop a good knowledge of it.
Specializing in freelance writing means learning about that one particular industry in detail. You have to do a lot of learning and keep learning until you become the best writer in that niche.
Not only learning, but make sure you do a lot of practice. You will achieve more success in your writing career if you do a whole lot of practice.
2. Satisfy Your Clients
No matter how incredible your writing skill is, you won't prosper as a freelance writer if you don't satisfy your clients' demands. The success of your writing projects depends on how effective you are in meeting your client's demands.
Your experience and expertise should gear you towards bringing the expected results your client wants.
3. Selling is Important
All the knowledge you will develop in your writing journey would be useless if you had no one to offer your services. Under this tip, it's pertinent you know how to sell your writing services to clients.
Even if you do not have the best writing skills, if you can sell your articles and writing services very well. You'd be better off than some freelancers who have the skills but are unable to sell them.
As you build your writing skills, polish your selling skills because you'll do much more selling in your freelance writing career.
How To Find Freelance Writing Jobs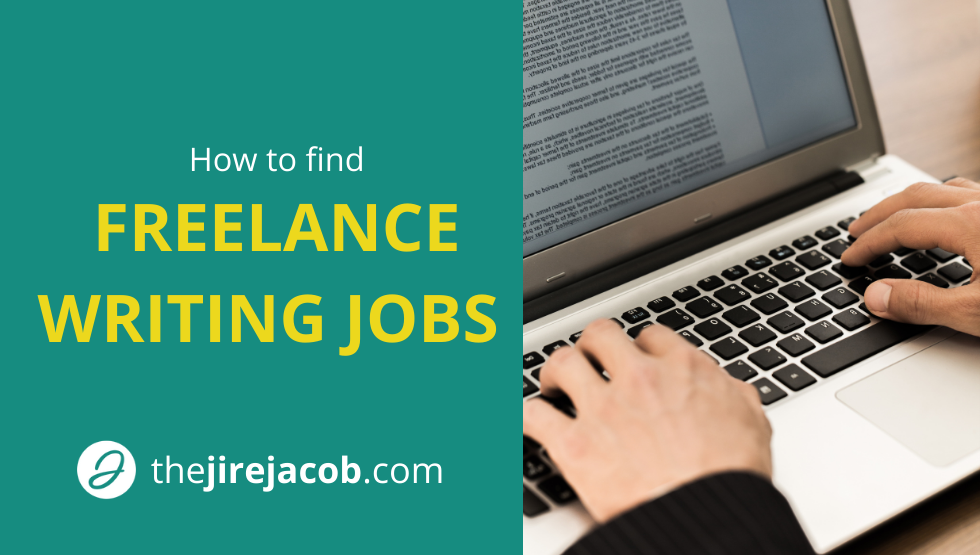 What is the use of a writing skill if you don't have clients to work for?
It will be practically useless to you.
In this section, We are going to be looking at different platforms where you can get freelance writing gigs.
As a new freelance writer, landing your first client will be one of your most significant challenges but if you can land one, then you can land 10.
When I started my freelance writing journey as a copywriter, I was unsure what I was doing. I stalked many professional writers, learned from diverse courses, blogs, and websites until I discovered how to land high-paying clients in any industry.
The good news for you is you won't pass through all this stress I had to pass through because in this section of the article, I will show you how you can get clients in any writing niche, so let's begin;
1. Cold Pitching
Cold pitching is a fantastic way of landing a writing job, even for the first time as a freelance writer. When you are sending a cold pitch, you are not in competition with anybody.
Firstly, what is a cold pitch?
Cold pitching is the process of contacting editors, companies, small business owners, bloggers, or even Entrepreneurs to let them know the services you offer as a freelance writer and how you can help grow their business. Hold on, and it's not as scary as it sounds, especially for newbie writers. It is effortless to do if you follow my steps.
First, you need to locate a business or a person to send your cold pitch to. Maybe you noticed the business does not have a blog section on their website, or you noticed they are struggling to grow their online presence, and your content can help them do that.
The best way to go about this is to research those businesses and websites in your chosen niche. Check the areas they need your services and write them down. With this, you have a list of potential clients you can send your cold pitch to.
Your cold pitch should contain this essential information
How you got to know about them,
Who you are, and
What you are offering and how your services can help them.
2. Ask Around
The only way people can know what to do is when you tell them what you do. When your friends and family are aware of your services, it is easier for them to refer you to someone who needs your services.
You might not know the opportunities that lie around you, except you ask around. Letting your friends and family know that you are a freelance writer can lend you your first few projects.
Someone in your circle might need you to write a short ad copy for a small business to update his resume, and this might be the first project that gives you a testimonial.
Also, when you decide to quit your 9-5 and focus on freelance writing, it is best to let your co-workers know the new path you have chosen.
Also, get prepared for the freelance writing life you have chosen. You might need to create a business card and share it with people around you.
3. Warm Pitch
We've talked about cold pitching in this section, and now let's take a look at warm pitching. To increase your chances of landing a high-quality client, you need to practice both cold and warm pitching.
Cold pitching is a direct way to land a client. But in the case of warm pitching, your focus is on creating a relationship with the prospect and their business.
For example, when you find a business or brand you wish to work with, you can follow them on their social media pages and interact. When they make a post or share a video, you like and comment on building a relationship with them.
As time goes on, build your relationship with them and introduce yourself to them formally.
This is when you can ask them if they're interested in your writing services, and they are most likely to respond if they need your services because you have built a relationship with them already.
4. Job Boards
Checking and responding to job board ads as a newbie in freelance writing is one of the surest ways to land your first writing gig.
For first-time writers, job boards are also the way some writers keep getting constant work to their table.
One advantage of job boards over freelance sites is that there is no competition and bidding in job boards. Businesses and entrepreneurs place advance writing services on these job boards, and you send your proposals to them.
Some of the ads on these job boards will tell you how much the client or business wants to pay for the project, and sometimes they ask you to give your rates.
There are paid job boards and free ones, but I'll advise you to start with the free job boards and see how well you can do with those.
You might land your first client with a free job board and then proceed to pay the ones to keep getting consistent work.
5. Get a website
Getting a website can make you stand out as a freelance writer and move you up from receiving little payments to receiving high payments for your services.
This might seem complicated for you if you are starting as a freelance writer, but you should put it into consideration if you want to stand out. Having a professionally built freelance writing website will give you an edge, especially when pitching to clients.
However, you might have to invest in yourself by getting a WordPress-hosted website and a domain name for you to achieve these. If you have a personal blog you have built over time, you can still use it to offer your freelance writing services.
6. Guest Posting
Are you wondering how writing for free will pay off and land your clients? The truth of the matter is when you guest post on a popular website, you stand a chance of attracting high clients because many readers and thousands of people will see your work.
And in the midst of those readers from the guest post is a high-paying client, and you can be sure of that. This is a secret which many top freelance writers used to build their portfolios.
It's nice to pitch job ads and to search for gigs on freelance websites but if you do not have a quality set of samples to produce, it will be hard to land a good client, although it's not impossible. Guest posting can reduce this headache for you if you go about it the right way.
So, where do I guest post to attract the kind of client I want? 
You need to search for top websites and blogs in your niche or industry and pitch them with the sample article you want to post on their website.
Your article has to be flawless and meet their demands. 
Before you proceed to start preaching to these editors and websites, ensure you arrange your author bio perfectly because it is reserved as the copy that gets readers over to your site.
7. Network
The best thing you can do in your job as a freelancer is to network with other freelancers, especially when it comes to writing. The freelance industry is not for competition, and this should be at the back of your mind.
One thing that has helped me as a copywriter is the fact that I need to work with other copywriters in sharing reviews and criticizing projects.
This helped me to sharpen my skills as I journeyed through the ladder of my copywriting career. You can apply this to your freelance writing career as well.
There are so many things that might get you confused along the line in the writing business, and who is in the proper position to offer you advice about it other than your colleagues in the industry?
Your fellow freelance writers.
They can refer freelance writing gigs to you, especially when they have a lot of work on their table. Who knows, one of the clients they might refer to you will be the long-term and high-paying client.
This is one of the few reasons why you should ensure you have a smooth relationship with different freelance writers in your niche.
You can participate in freelance writing communities, social media groups, and other interactive platforms for freelance writers.
8. Advertise Yourself
If you're on social media, you can tell people that you are up for hire. Advertise that you are ready to be hired to work on different projects and for clients.
Prospects will not know you are up for hiring if you do not tell them, and telling them makes it easy for them to consider you for the job. Social media platforms like LinkedIn is great for this kind of advertisement. 
You can put up a banner on your profile which clients will see and send you a direct message. I know freelance writers who have gotten high-quality writing jobs through this process.
Frequently Asked Questions About Choosing A Profitable Freelance Niche
I added this section to explain further and answer any questions you might have about the above article. Also, a comment box is made available for questions you may not find below.
How To Pick Your Freelance Niche
Your freelance niche is your area of expertise or an area on which you are focused. For example, you could be interested in Finance, which is a broad niche. On the other hand, you might have an interest in Cryptocurrency topics.
To pick your freelance niche, you have to bear some things in mind. Things like;
Expertise
Interest or Passion
Market Demand
Freelance is all about what you love. As a freelancer, picking your niche according to your interest is essential. Selecting a niche according to your interest will help you in so many ways as a freelancer.
Recognizing your strengths and weaknesses is another significant way of choosing a niche for your freelance writing as it indicates how far you will go and how seriously you would take your work.
At times, you find out that you have a broad interest in many niches, and you find yourself in situations where you cannot choose. So don't be scared to explore.
Many times, you find out that your niche is meant for you through acknowledgements from your clients.
How To Validate Your Freelance Niche
Now here is the breakpoint for most beginners. One thing is to choose your niche, and the other thing is to validate it.
The main point here is to find a platform that would pay you for your services. To do this, you should scout for big businesses with a large budget.
Checking on freelancing platforms like Upwork, Freelancer, Problogger, etc., can help you find businesses or companies that could pay you for your services.
Guest posting is another way to validate your niche and get clients to your websites. Guest posting can be seen by prospective clients who are in turn serving as an ad for you.
Looking for specific niche training is another beautiful way to validate your niche as a freelancer. Try looking for something available for your niche, and be sure to get validated.
How To Start A Freelance Niche You Don't Have Experience In
As difficult as it might sound, it is quite possible to start a niche you don't have experience in, but there's always a catch.
If you don't have experience in your niche, it will reflect on your work, your clients would notice, your blog readers would also point it out.
The only way is to write and learn, at any interval, learn about your niche, and perhaps some documentation would get you ready.
As you keep learning and putting more effort into consistent writing and practice, you end up becoming a pro in your niche and giving your client the satisfaction they need.
What Makes Some Writing Niches More Profitable Than Others?
Based on numerous research, the ratio of demand to supply is one of the primary reasons why some writing niches get more profitable than others. Once there is high demand for freelance writers in a particular niche, that niche becomes more profitable.
Looking at the price paid per article would enlighten you more about profitability. For example, the amount you get paid for writing in a health niche might differ from the beauty niche.
Thus, the money or compensation plan you receive is definitely what makes a niche more profitable than the others.
Can A Freelancer Become Rich From Writing?
A freelance career has a number of benefits to which you are entitled. Well, you get to choose your time, the type of work you want to do, become your boss and work from your comfort.
If all goes right and you pick the right niche for yourself, you get to enjoy your payment as a freelancer. That means you get to become a millionaire by doing what you love to do.
According to research, an average freelancer makes $21 per hour and works for 36 hours, and they get up to $39,000 as an annual payment.
Can Freelancing Become A Career?
Getting paid for working online while staying in your comfort zone is everyone's dream. Working whenever you want and wherever you desire is what anyone would want.
With the market saturated with a consistent rise in technology, many youth and even parents strive to find ways to venture into freelancing.
Freelancing has given jobs to a lot of people and given them a means of earning. Students are not left out too, and they make side money from freelancing and, most significantly, from their comfort.
Why Do Companies Choose Freelancers Over Full-time Employees?
In this present state, I believe that it is time for freelancers. Month after month, companies are giving jobs to freelancers irrespective of employees. More and more workers are abandoning their jobs for freelancing due to its flexibility.
Nowadays, companies are hiring freelancers for many reasons ranging from speciality and expertise to cost-effectiveness.
Freelancers are very skilled, and as such, they attract companies that need work to be done.
In addition, many companies value the service of freelancers because they spend less when compared to full-time employees.
Not all projects demands employee performances. Some projects could be one-off, as the case may be, and employees might not possess the skills required.
On the other hand, freelancers are constantly updating their skills to the latest trends to suit the demands of their clients, which also makes companies want to hire the services of a freelancer more than a full-time employee.
When it comes to hiring a freelancer, companies have to pay less, which saves time and money. Who wouldn't love to conserve time and finance?
Final Words
In case you were not sure of which writing niche to settle for, I am sure that you would have gained a few insights from this blog post.
I wrote this blog post from in-depth research about writing niches coupled with my experience as a freelance writer who has worked with different clients across the globe and delivered over 1750 writing projects.
You can be rest assured that if you follow the tips in this article, you will select the best writing niche for yourself and become a master in it. Do well to check other posts on our blog for insights on writing and freelance writing.