Give me four weeks, and I will make you a kick-ass Copywriter!!!
…in the end, you will literally be able to print your own money and quit your day job.
This is not the regular message you will see on just any site any day, and this is the best thing you will read today if you stay with me to the end…
I can almost guarantee that the reason you are still reading this is because I have hooked you in the right spot and don't you also want to learn how to get people to listen to whatever you have to say to them? 
Before you answer that question, let me open your eyes to an obvious reality that still manages to elude many.
One thing I am sure we agree on is the fact that the 9 to 5 life is not what a lot of people are cut out for; Not the kind of life where you live paycheck to paycheck after waking up daily only to jump into the bustle and hustle of the early morning traffic and go work for a boss who eventually pays you pennies.
Apart from the fact that you are probably working to make somebody else rich rather than putting in that work to make yourself wealthy, most companies, especially the larger ones, don't really value you. 
Take for example, the department in charge of hiring isn't called "human resources/HR" (more or less you are like a natural resource to them that can be exploited, not someone to treat with respect!) for nothing! You might even easily lose your job if you fall sick.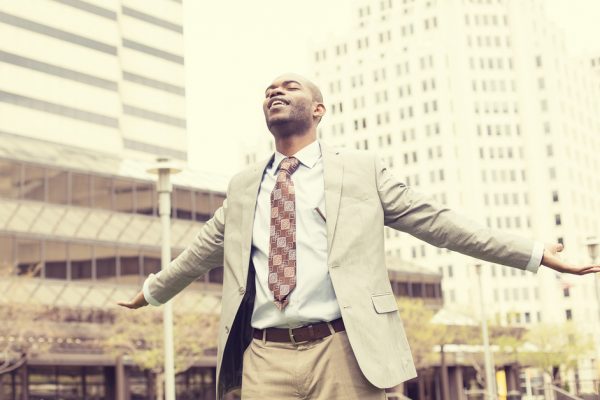 If there is anything that the 9 to 5 life guarantees it is long term growth of unnecessary patience; and when I say this I mean you already developed the patience to wait for payday before you can spoil yourself with an humongous meal at a fancy restaurant, painstakingly save up to get that dream car and dream house, spoil your girlfriend silly in a way she would never have expected…
…I mean you even developed the patience to wait till your boss gives you a break before you can go on a well deserved vacation (Maybe you have even always wanted to go live out a month on banana island), this is even in rare cases where your salary can cover the expenses of an expensive getaway.
The truth is that in this present time, more and more people are starting to move away from a full-time 9- 5 job, especially Millennials. Striving to get to the top in someone else's company is not as attractive anymore to people—honestly, even me. And you—if you want to be at least honest with yourself. 
Let's not even talk about the job loss due to the pandemic. The realization many came to is how digital skill is inevitable for survival in the future. 
The new norm is now owning your own business, writing your own paycheck, calling the shots and not having to be ordered around by an annoying boss. The new norm is having CONTROL and BEING in charge. It doesn't even matter if you are a man or woman, making your own money is what gives you TRUE Freedom and Power.
What if I tell you that you actually don't have to slave away your time anymore if you can listen to the things I want to say next. Yes, you guessed right, but no, this is not the same way copywriting has been presented to you in the past.
Yes, you can make as much as #250,000 on a single Copywriting Job!
Haha, you read right! Read it again. I said you can earn as much as #250,000 on a single copywriting job, and if this is not the escape and get away from a traditional job, I don't know what else is…
Maybe you didn't get the idea. You can earn as much as #250,000 on a single job. You can finish a copywriting Job in five days or less. You can get more than 5 clients in a month. Do the math yourself!!!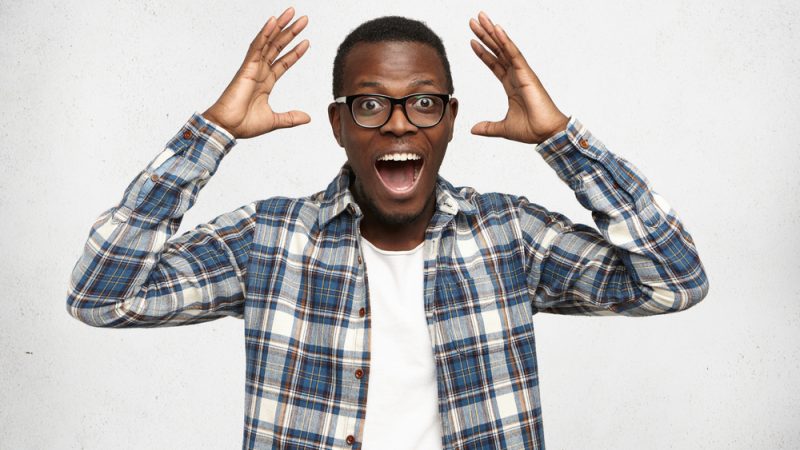 We will soon get to the secret of crushing it like I just mentioned above…
Here is the deal. Most people that you will come across will either tell you that copywriting is hard or people don't make as much money as they claim. Well let me tell you two shocking facts; These people have most likely tried copywriting freelancing themselves and failed woefully to make anything tangible…
…Or they just decided to launch themselves into it without a proper plan, strategy, knowledge, and what it takes to flip this job on it back.
… Let me leave my own testimony apart and tell you that I have taught and mentored students who have gone ahead to make millions in a few months from using copywriting as a side gig.
…What many people don't consider is the fact they spend about 4 years or more in a school to learn a career and they expect to make it in copywriting by enrolling in a mediocre and substandard course.
So you may be wondering, who exactly is a copywriter?
A copywriter is someone who writes advertising and marketing materials. Emails, banner ads, direct mails, magazine ads, billboards, videos, websites—if it's designed to sell or persuade, copywriters write it.
Simply put: Copywriters connect people who have a need with the company or people who have the right solution for that need.
SO WHAT MAKES COPYWRITING SUCH A GREAT CAREER?
Companies and clients pay copywriters well—that's certainly a great place to start. But just as important is the fact that it's a creative, interesting, fulfilling career.
You get to work on interesting projects and collaborate with creative, dynamic people. People value your contributions and they respect you for the work you do. 
Your skills are in demand and it's finally up to you how you want to structure your business, your finances, and your life. Want to work on-staff for a cool downtown agency? Check. 
Want to keep your life flexible and freelance whenever and from wherever you want to. Check. Or want to bring in some extra cash on the side to save up for something special or just make life a little easier? Check. 
Copywriting can get you into all of those spots. Now, it's up to you to get yourself into copywriting.
How would you feel if your life suddenly flipped around (Not in the bad way haha). Here is that opportunity!!!
One of the biggest decisions I ever made is learning to write sales copy that is irresistible to whoever reads it. This didn't only help me to secure my financial freedom, it also gave me the freedom to enlarge my portfolio that opened the door to several other opportunities.
…I can tell you from experience that one of the sweetest feelings is financial freedom: the kind that doesn't come from submissiveness to a boss or being ordered around by a senior staff, the feeling that with a single copywriting job you can make what people take months to save. The feeling that you can earn in dollars and spend in naira (I mean, this is why many run away from the country)
The subconscious recognition of the fact that you determine how much you can make depending on how much work you are willing to do; That you can take vacations at any point in time you feel like you're mentally stressed; is bliss. What more, you can even work while on vacation if you feel like. 
For a fact, many people that have learnt this highly demanded skill are making a lot of money from it. 
With this high-income skill, you can make a comfortable 7 figure every month round the year and this is no exaggeration. 
Copywriting is a skill that will definitely put you on the road to financial freedom as long as you employ the right strategy and right technique to tackle it…
…do you know what it is like to be in constant demand by multiple sources just because you are different and know your stuff. 
This is why you need to learn the right way. When you get a blockbuster copy Job that launches you into the limelight, the rest of the journey becomes a roller coaster ride.
Copywriting is not just something you will do to get money, but as long as you enjoy writing you are also doing what you love to make you money. 
Copywriting is one very interesting path! It is an art where you try to get into the subconsciousness of your reader and try to predict their reaction to the things you have not even said.
…it is a mind game that pays way more than you get cracking your mind for your boss.
What if I tell you that you can write a compelling letter like this one you are reading? See, writing a copy is way easier than you might think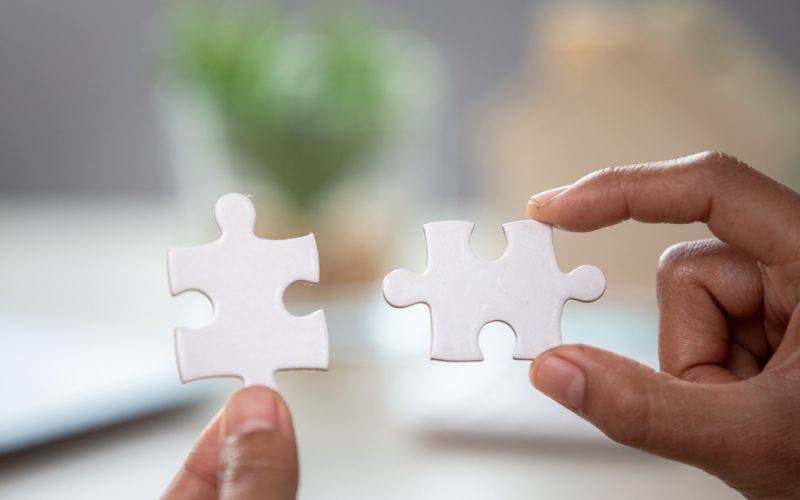 Copywriting is no more difficult to get into than any other occupation. The key to being successful, however, is going into it with the right training and strategy. 
A step-by-step guide on exactly how to learn the skills, develop your portfolio, develop your experience, and attract buyers is what is needed above all else…
The problem most copywriting courses have is that they only teach you the theory of copywriting. Just the same way you would be taught the theory of treating patients in a medical school.
They don't show the process of copywriting. They don't teach you the practical abilities, skills and confidence to write a copy. They may most likely show you very good examples of a copy but they may not really show you how to turn a bad one into a good one.
Without the proper knowledge of how to navigate the complexities of actually attacking a new copywriting job, or how to even get a job out there, many tend to get lost in the overwhelming wave of confusion. 
And in all honesty, you may too!
…this is why I have put in place the "Crush It Copywriting" course for you to show you the step by step procedure to not only learning the skill but to actually applying the skill in the real world hustle for a client.
Why this course is the secret that has helped many to make millions.
The problem is not that it is hard to learn copywriting, one of the places many fail is the fact that they are unable to apply what they have learnt in the real world. 
The "Crush It Copywriting" course is like none you have ever come across before. 
We are not focused on getting you pumped up with learning the copywriting skill. We are more focused on showing you how to actually create deliverables; 
We are concerned with taking you through the process of getting your first job and attacking an actual project from a client be it a web copy, a landing page, sales page, etc. whatever the project may be;
…The CIC course is bent on bridging the gap between you learning copywriting and actually being a copywriter! You may not even get this from anywhere else.
…We are not JUST going to teach you the various sales tactics to get a job done, but by the end of the 4 weeks, you are going to have mastered not just the skill, but how you are actually going to market yourself out there and take on a real project like the Crush-it-writer that you are. 
What do you get from this course?
I am pretty sure you already get the feel why this course is special. So what do you get exactly;
You will learn all you need to know about this money-making industry that many have already taken advantage of. 
We'll also help you get started by showing you foolproof ways by which you can land your first successful job and launch your career as a Seven-figure earning copywriter…
…We will show you how to market yourself and attract the attention of the people that immensely need your service.
This course is prepared from my wealth of experience right from when I started as a struggling copywriter to when I started to crush it… 
This shows that this course is power-packed with all the required elements it takes to be among the top earners…
Maybe you have tried several courses from different people that claimed that your life would be different if you joined their program, but you still find yourself hustling to either get a client or even make a decent 50$ from a job, then I'm glad to inform you that the CIC course is not just any course that tells you

WHAT

, but

SHOW

you the

HOW

everyone has been failing to open your eyes to.
This is the same strategy that has made me nothing less than $5000 every single month!!
Imagine how it would be like if you could leverage this same strategy to get a high paying client and actually make it in the freelancing world like the many testimonials you have seen on the net.
Imagine all your fantasies becoming a reality. Yes, I tell you this is possible with the CIC course!
Jire is one of those few Maestros that do not only understand the art of copywriting but also how to inject it in others. His teaching methods and mentorship transformed my perspective about skill learning and online income generation.
In just 5 months, I made close to $3,000 (as a side gig), and ever since, the figures have been spiralling up. Thanks for the opportunity.
Having the witty Jire jacob's consult for us stands as one of the best decisions our organization has made in recent years, his service was sterling and his suggestions very effective.
The strategies he introduced led to a remarkable sales surge within just 30 days. What an amazing executor! He is no doubt one of the best copywriters I have worked with, definitely one of the best in the field, and I strongly recommend his courses.
For the 4 weeks duration of the CIC course, what do you get?
Each week of the CIC course is loaded with a course module that is aimed at attacking and making you a master of the different aspects of each element that makes you a persuasive and effective copywriter. 
The course is divided into 4 modules and each module has 4 sessions each week. 
Each session is a quality 2 – 3 hours spent dissecting the intricacies of the selected aspects.
Getting started: The opportunities and the lifestyle of a copywriter
Here we will discuss the opportunities available for a copywriter, the lifestyle, the earning potential, what you need to be a copywriter, and what you don't need.
The Mindset Secrets to Achieve Success as a Crush-It Copywriter/The Daily Habits of a Crush-It Copywriter
Here I lay the foundation for the course and highlight the things you must begin to do from Day 1 of enrolling in the course so you can come out refined and ready to grab 'em Benjamins and crush those projects for your clients.
Direct Response Copywriting vs Content Writing
Here we will discuss why direct response copywriters command so much authority and why it's a lot different from content writing. I will introduce you to the world of direct response copywriting.
The fundamentals of Persuasive Writing
Here, we will cover the basic rules behind copywriting which will set the tone for everything we are going to talk about in this program.
The Copywriter's Task Execution Summary
A lot of newbie copywriters get confused when they are faced with an actual project. They are at a loss of where to begin, what to write, and how to deliver a complete product. Here we'll cover what you should do each time you receive a brief from your clients.
How to Build Your Customer Avatar Before the Writing Process
Knowing who you are writing for is very critical to your copy success. A lot of copywriters out there struggle to write good copies just because they suck at carrying out in-depth customer research.
The Before and After Transformation Exercise
Here I will show you how to summarise the fears and pains of your customers in a single grid so you are able to focus on the things that matter when you are writing your copy.
Headline/Subheadline Creation Masterclass
Here I will take you through an immersive session where you will learn how to craft intriguing headlines and subheadlines. This is the number 1 determinant of a successful copy.
The Anatomy of a Sales Letter and How to Write One From Scratch
Here we will go through the anatomy of a sales promotion and how you can assemble your own sales letter for any product using simple secrets and copy formula.
Advanced Strategies to Audience and Customer research
Here I will take you through how to; unmask your prospect's innermost feelings, desires, and beliefs; understand what ideas, facts, and phrases are likely to encourage, frighten, and excite him, make him want to be your customer forever. As well as, how to swipe real customer language using marketplaces and repositories.
How to write Scalable Fb Ads Copy
I will show you how to write a Facebook ad copy that sells and is compliant. This is a high-demand copywriting project. I will teach you 4 different strategies to write the most persuasive Facebook ad copy for your clients.
How to write a Landing Page Copy From Scratch
Every direct marketer out there needs a compelling landing page copy. I will take you through writing a landing page copy that spirals web browsers down the funnel, from scratch. Here you will learn the Z to A method, a working back from the goal method that helps you to write a landing page copy in less than 1 hour.
How to write an E-commerce Product description from Scratch
The e-commerce industry is booming right now, and as a product description copywriter, you can earn up to $2K monthly writing just e-commerce listings. I will take you through the process of writing one from scratch.
How to write a Professional Home Page, About Us, and Contact Us for any Website
I will take you through the process of writing the three most important pages for any website.
Choosing Your Path as a Copywriter
Here I will show you how to choose your niche, why you should choose a niche, reveal the most profitable niches to you, and how you can begin to market yourself.
Your guide to your first $1000 as a crush-it copywriter
Here I will take you through what you need to do to land your first high-paying client as a copywriter and how to market yourself effectively after niching down. I will reveal the exact things you need to do to appear as a pro copywriter even though you are just starting out.
Do you know what is more interesting?
Apart from these major power packed engaging sessions, you also get access to several tools and copy materials that makes the journey a whole lot more easier for you. 

The truth is, you will never get these materials for free anywhere.
#1) 167 Power words that motivate people to buy. I am going to provide you with 167 power words that are ascertained to catch attention and create an irresistible smart copy. This way you will never run out of words.  (#52,000 value)
#2) 300 Fill in the blank headlines templates: With this, you can never be caught staring at blank pages when you can use this template to tease out your creative juice (#52,000 value)
#3) 30 Top Performing Copywriting Samples: The best way to be a master is to look at what other industry leaders have done. Whenever you need to fuel your copywriting energy, come back to these handpicked samples. (#52,000 Value)
#4) Sales letter checklist for a crush-it copywriter: The fastest way to being a 7-figure copywriter is to make your clients happy. Never hit the send button until you have ticked all the boxes here.  (#52,000 value)
#5) Facebook Ad copy Compliant Checklist: Many business owners have their Facebook ad account shut down because their copy is not compliant. Remember Mark was sued for data violation at some point? This checklist will ensure you are able to write compelling Fb ad copies without flouting Fb's guidelines or rules for running ads. Writing compliant and scalable ads mean your client can make money with your copy for a long time without Fb shutting them down. (#87,000 Value)
#6) 7 Copywriting Tools to Help You Write Smarter: Here you will see 7 copywriting tools to help you write smarter and even better than the "gurus." (#106,000 Value)
#7) 10 Top Copywriting Jobs You Never Knew Existed: These are the low competition boards where you can land high paying clients. Most freelance copywriters do not know about these boards, number 3, 6, and 8 are my favorites. But you get access to all when you join my course. (#52,000 Value)
#8) What Every Copywriter Needs to Know About SEO: Never lose a client just because you have zero knowledge of Search Engine Optimization. Here you will learn everything you need to know about SEO as a 21st century copywriter. (#53,000 Value)
#9) The Ultimate Guide to Guest Blogging: Here is a robust guide to making your work go viral on the internet and expand your network as you build your copywriting career. (#53,000 Value)
#10) The Tracing Method to writing any form of Copy: The tracing method shows you the hack to writing any form of copy without breaking a sweat, A complete guide to writing smart without stealing. (#106,000 value)
#11) Freelance Writing Goals Worksheets: Freelance writers who write down their goals are more likely to make 7-figures. This is a "done for you template" to help you set your income goal and crush-it.  (#52,000 value)
#12) Freelance Writing Niches Workbook: You will learn how to pick your niche, but if you still find it difficult, this guide will help you nail it down. (#106,000 value)
#13) Questions every Copywriter Should Ask a Client: High paying clients want to be sure you know what you are doing. What better way to demonstrate your expertise than to ask the right questions? (#52,000 value)
#14) Access to expert critique for 30 days after the program: Here you will have access to professional copywriters who would be able to review your copy and guide you to perfection. (#86,000 Value)
These tools and materials are guaranteed to not only make the process easier, but will also go a long way in helping you produce top-notch copy jobs for clients.
The jaw-dropping truth is that these bonuses in real time price cost about #961,000 and you get them absolutely as a freebie for signing up for my course. Tell me where you can get a better offer!
By now you are more than excited to get enrolled on our course and start experiencing all these things that I have spelt out to you, but you still have some few unanswered questions. 
Don't worry! I got  you!
How much do I have to pay to hitch away all these exciting deals you've been listing?
I am not asking you to pay #1M even though the bonuses only are worth #961,000 amount. Not even #500K. You are not even going to pay one fifth of that. The investment for the entire course is #75,000 only.
BUT YOU CAN CLAIM THIS ONE-TIME OFFER AND LOCK THIS DOWN BEFORE THE TIMER RUNS OUT.
Take advantage of the 50% discount and lock down the entire course and the bonuses for 35K only.
I am only taking 50 students, if you are still seeing this page, it means you got a chance. Lock down your slot fast.
It is time to let people you don't know pay you for that lifestyle!
A tad bit latter, and you pay #75,000 to get access to my course.
If you dare nothing, then when the day is over, nothing is all you will have gained.

Neil Gaiman
Imagine what it will be like when you've finally graduated from the CIC copywriting program…
Imagine working 2-3hrs daily writing for clients across the globe, while having a glass of cold juice, on your couch. Imagine offering the in-demand gigs taught in the course and making $2k – $5k every month.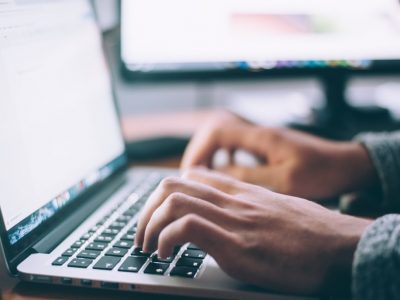 Imagine actually reaching out to the HIGH paying clients, the decision-makers, and charging what you're worth. Finally, you are in charge of your income and time and it's time to FIRE your EMPLOYER.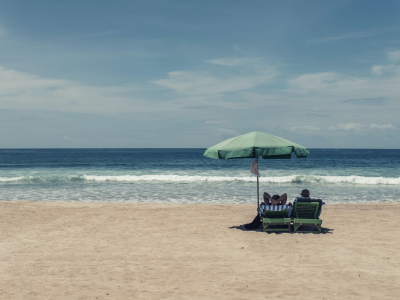 Imagine the FREEDOM of having to work from home or travel anywhere and still talk to your clients and deliver jobs on the go. All you need is an internet connection, Laptop, Google Chrome, and Google Docs or Microsoft Word.
…Imagine FINALLY achieving your goal of becoming a full-time freelance writer. You've FINALLY broken free from your 9-5 Job that constantly leaves you EXHAUSTED, spend more time with your family, and NEVER have to take orders from a BOSS!
This course has a CRAZY amount of student success stories… because it works!
Meet mide who became a full-time freelance copywriter and started making 7-figures in less than 6 months.
Listen up! 
I am not the copywriting coach only for those who already HAVE things going for them. I take you from where you are presently to where you want to be. 
If you are tired of throwing away your money on the internet for courses that only show you the WHAT and not the HOW…then you want to get in FAST.
There has never been a better time to start freelance writing!
Why should you start today instead of waiting another 6 months to a year to try?
 Well… Starting now will allow you to:
Learn a high-income skill so you can start getting clients quickly. Every day you wait is a day you could've been closer to quitting your day job!
Get your business portfolio site set up for free and start getting clients NOW so you can put yourself on track to become a full-time freelance writer ASAP.
Grow your income and freedom like crazy… while doing something you love from home or anywhere in the world with an internet connection!
If you wait, you'll keep putting it off and wake up a year from now with:
 —-> The same 9-5 job you dread so much.
 —-> The same frustration of not being able monetize your skill online
 —-> The same lack of high-paying clients. 
6 months from now, you'll wish you had started today.
This course is perfect for you if…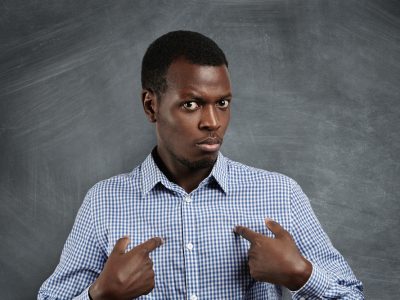 You're ready to put in the work and start a profitable, full-time freelance writing business 

You're serious about taking bold action and ready to learn marketing.

You're a good writer (You don't have to be the next Chinua Achebe, but you do need to understand basic grammar/spelling.)
And who is this course NOT for? Let's see…
Anyone who has a negative attitude and isn't ready to learn.
This course teaches you everything you need to know about Copywriting and how to land high paying clients.
It's YOUR TIME to build a full-time Copywriting business so you can have the freedom-filled life you've always wanted! 
YOU CAN DO THIS… even if you're broke, busy, and have NO EXPERIENCE!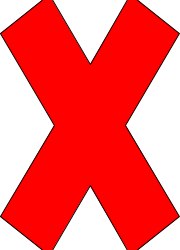 "I'M TOO BUSY RIGHT NOW!" Do you know if you don't take action now, all that happens is that you grow older?  
You don't need more time – you need to prioritize. 
So if you're in the middle of something, want to wrap a project or you are planning a wedding etc…. still enroll and you will have access to the playback.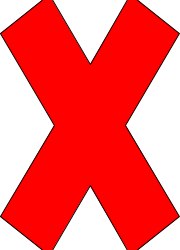 "I DON'T WANT TO SPEND MONEY ON ANYTHING RIGHT NOW! 
You're still thinking about money like an employee – not a business owner. 
The truth is: Money is a mere tool, you use to solve problems or invest it  to take a giant leap forward. 
Think about the RETURN on your investment! 
As a business owner, it makes sense to invest in your learning when there's potential to make THOUSANDS of dollars per month and literally change your life by implementing what you learn!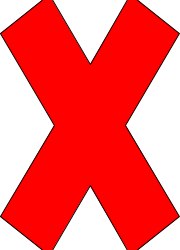 "I DON'T HAVE A COLLEGE DEGREE OR ANY PROFESSIONAL EXPERIENCE!" 
You don't need either one of those things. 
You need a proven, step-by-step blueprint and a copywriting coach who has actually walked the talk. I have, google me!
Remember, this is a special, one-time offer that disappears when time runs out! Enroll now to get in the course and claim bonuses worth #961,000 Before the door closes. You snooze, you lose.
SEE MORE TESTIMONIALS FROM MY FREE CLASSES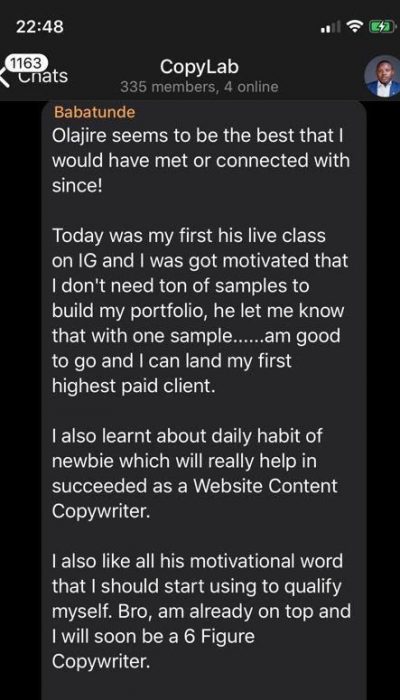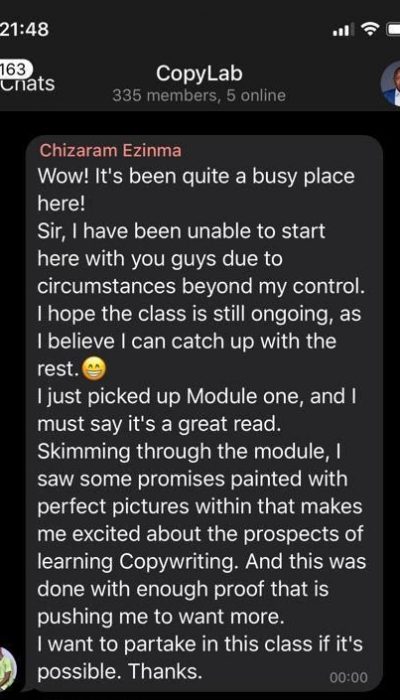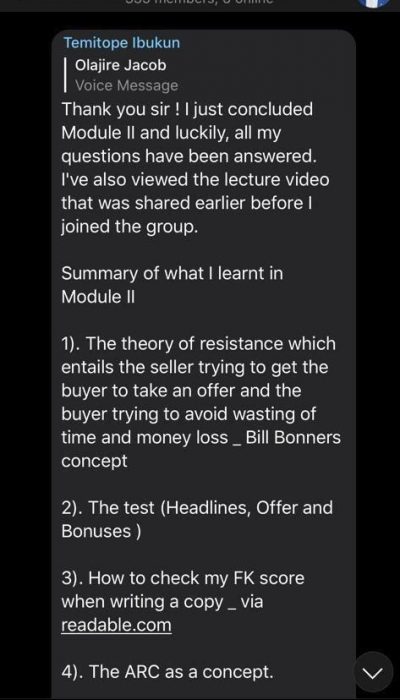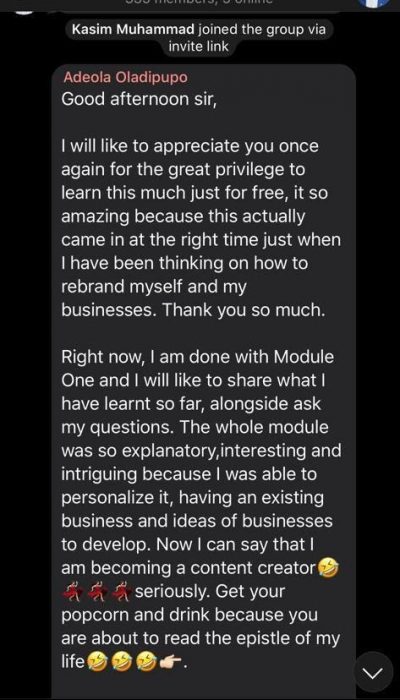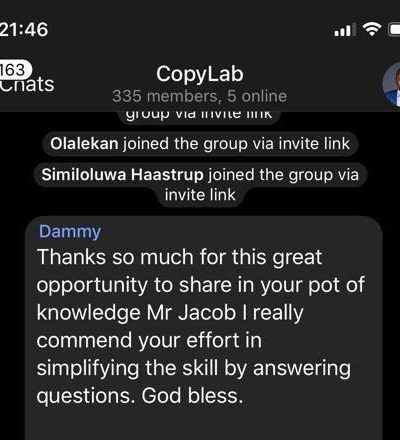 FREQUENTLY ASKED QUESTIONS!
When is the course starting?
The program kicks off on the 18th of October and runs through 14th of November. I will only be taking 50 students in this cohort and I can't guarantee there will be another program this year. So you want to book your slot fast.
In what format will the course be delivered?
All of the sessions will hold live on zoom, and you will have the opportunity to ask questions on the go. Zoom is preferable for the deliverability of the class due to its flexibility, easy access as well as simple technical-know-how
Will there be video recordings after each session?
You will get a playback link after each session so you can rewatch during your free time. Replay of classes will be hosted on Google classroom.
How do I take advantage of the additional bonus materials?
The bonus materials are for the fast action takers. Click on the link and make payment so you can lock down your support and claim your bonuses. Remember the bonuses alone are worth #991,000, and can only be claimed before the timer runs out.
How is this course different from other courses on the internet?
We are not focused on getting you pumped up with learning the copywriting skill. We are more focused on showing you how to actually create deliverables; 

We are concerned with taking you through the process of getting your first job and attacking an actual project from a client. 

The CIC course is bent on bridging the gap between you learning copywriting and actually being a copywriter!

We are not JUST going to teach you the various sales tactics to get a job done, but by the end of the 4 weeks, you are going to have mastered not just the skill, but how you are actually going to market yourself out there and take on a real project like the Crush-it-writer that you are. 
How do I make payment?
Click on the payment link, it will take you through to paystack. Once you have paid, your payment details will be automatically confirmed.
I don't trust you. How can I verify you?
"So, who exactly IS the feisty writer teaching this course?"
So yeah! That's me.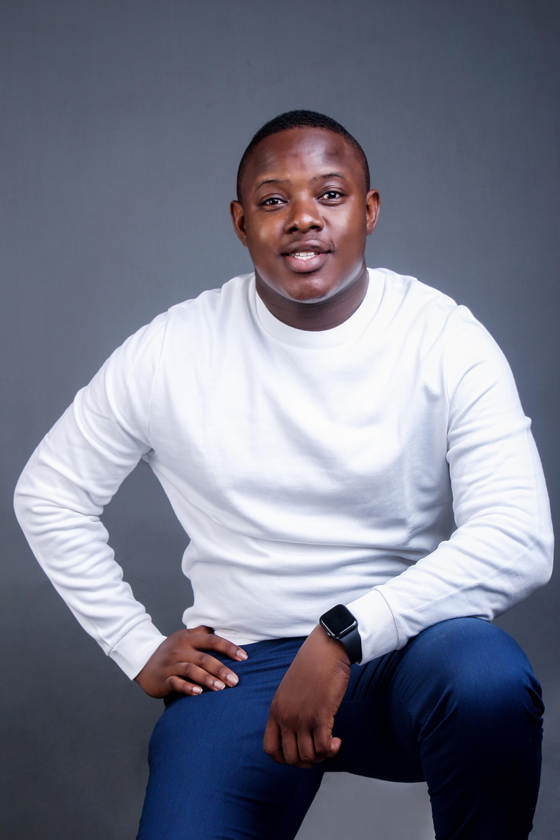 The name is Olajire Jacob (thejirejacob)
I am a first-class pharmacy graduate who built a $5000/mo freelance writing business in just a matter of months after firing myself from my PROFESSION.
I took the path least traveled because I had aspirations that were bigger than salary jobs. 
I have then gone ahead to start my own copywriting agency, teach business owners how to get more sales using the power of words and also help other ambitious youths like me to be financially independent.
To be independent is to have true FREEDOM and be in control of your TIME.
Whatever attacks your time, attacks your destiny – thejirejacob. 
My friend, shall we?
This one-time offer for the bundle ends soon!